Fabric Care
Regular Cleaning and Maintenance
Customers often ask how they can clean and generally maintain our fabrics. In the vast majority of cases regular maintenance can be done simply by vaccuuming with a soft brush attachment, and giving your upholstery a wipe down using a sponge and a mild detergent solution. Where applicable, many of our fabrics can be machine washed at 30 degrees.
Tougher Stains
It can happen that from time to time more stubborn stains and spills may occur, in which case proceed as follows:
WINE STAINS - mop up excess liquid as soon as possible by dabbing with kitchen towel. For red wine, a good solution is to liberally sprinkle table salt on the affected area and to then pour white wine on top - this helps to neutralise the effect. For white wine, dab the affected area with methylated spirit, then rinse the area with a weak vinegar solution.
INK / FELT TIP / BALLPOINT PENS - Dab affected area with methylated spirit
SHOE POLISH / LIPSTICK - Use a proprietary cleaning agent - Stain Devil make a wide selection of specialist solvent cleaners. (Solvent based cleaners should be only used on woven fabrics, not laminated fabrics - see faux suede/faux leather section)
NAIL POLISH - Dab affected area with Ethyl acetate.
CHEWING GUM - You first need to harden the gum. A great way to do this, if feasible, is to put the affected area in a freezer (assuming it is a cushion cover etc) - once frozen the gum will come off in one piece. If this is not possible then treat with a freeze spray and remove in the same way. If the gum is stubborn to remove, use Ethyl acetate and this will break it down.
Many of our fabrics feature a revolutionary nanotechnology anti-stain finish, which come clean with just water alone. Check out our Supremo Collection shown below. The anti-stain treatment is applied to individual yarn filaments prior to weaving, so every bit of the fabric is fully protected.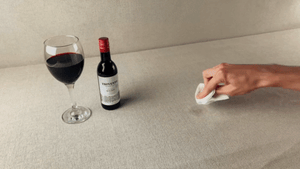 Faux Suede / Faux Leather Fabrics
You will need to exercise some caution when cleaning faux suede/leather fabrics. Faux suedes are made using very fine yarn filaments (the pile element) which are adhered to a backing using adhesive. These adhesives are susceptible to melting if exposed to some cleaning solvents. Therefore if wiping with a damp sponge does not work, then you should consult a specialist cleaning firm. You should also do this if stains are impossible to remove using any of the above methods. Faux leathers are similar in that there is also an adhesive layer between the top polyurethane layer and the backing fabric.
When sponging down, do not soak the fabric. Some fabrics have a high cotton content in the backing and soaking can lead to shrinkage and puckering.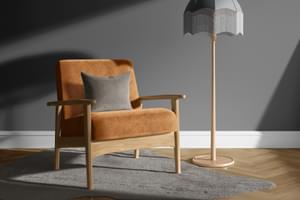 Washing Covers
If you are washing covers you should drip dry after washing (do not tumble dry or place over a direct heat source such as a radiator) and re-fit covers whilst still damp - this will ensure a good fit and covers have a little more give if damp.
If you require any assistance, get in touch, we are here to help.